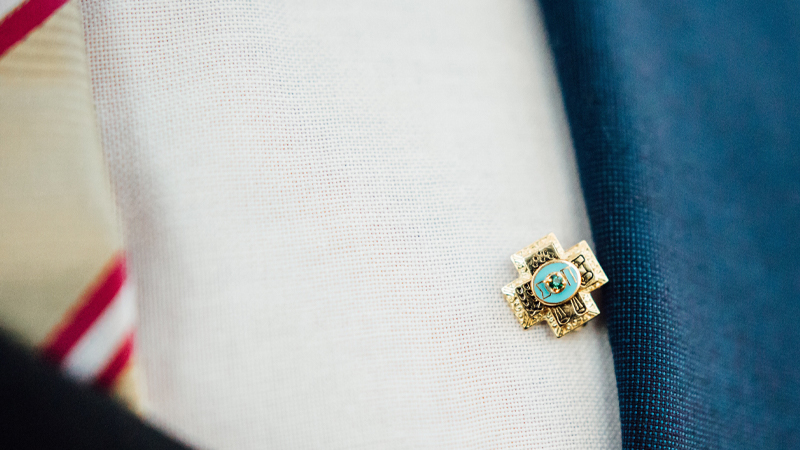 If you know a volunteer or undergraduate who should be recognized in the Quarterly, fill out this simple form. The volunteer recognition is not limited to Chapter Advisors and Province Archons, and the undergraduate recognition is not limited to Sages.
Volunteer of the Quarter
John Ingram III (East Carolina '07)
John Ingram currently serves as the Colony Advisor for the Iota-Chi Colony at Coastal Carolina University. Likewise, he is the current President of the Eastern North Carolina Alumni Club. John has done a great job with the men at Coastal Carolina, being involved since their colonization and even helping initiate the Founding Fathers as official members of Sigma Pi Fraternity. Similarly, he has also given the Colony an opportunity to complete 108 hours of community service by working directly with the Myrtle Beach community. The IFC also recognized the Iota-Chi Colony at Coastal Carolina for achieving the highest spring GPA among all Fraternities on campus!
Additionally, John is also a local business owner, currently campaigning with a local politician, and is applying for law school, all while starting a family of his own. John is an engaged member of his local community, all while remaining a dedicated alumni volunteer to Sigma Pi. His impact on the men at Iota-Chi has been significant, and we appreciate his support. John is an exemplary member, and the time, energy, and engagement he has given to the organization are what all alumni should strive for.
---
Undergraduate of the Quarter
Caleb Griffin (Coastal Carolina '22)
Caleb Griffin is a rising junior at Coastal Carolina University, majoring in Mass Communication. He currently maintains a 3.67 GPA and is on the President's list for the Spring and Fall semesters of 2021. Caleb is also an Eagle Scout.
Caleb was instrumental in helping get the Iota-Chi Colony at Coastal Carolina. He first reached out to Sigma Pi in October 2021 to inquire about starting a chapter at the University. He helped recruit other members to join him in getting the Iota-Chi colonized on February 2, 2022. Then on March 12, 2022, he and six other members were initiated into Sigma Pi. He will be working with his fellow colony members in preparing for a big Fall recruitment. During his tenure, the colony was recognized by the University with the highest IFC GPA on campus with a 3.162 GPA.
He spearheaded the colony's first ever community service project, where seven members put in 108 hours of service. The colony singlehandedly operated the first official Myrtle Beach AM Skateboard contest sponsored by the city of Myrtle Beach parks and recreation department. They directed traffic, secured the gates, unloaded vendors, mounted sponsorship signage, directed crowd flow, provided assistance to disabled attendees, and even went so far as to help several disabled veterans out of their cars. With their help, Myrtle Beach AM Skateboard LLC raised $10,000 in one day, which will go towards the park's improvements and creating opportunities for at-risk youth with a focus on anti-drug and anti-alcohol abuse, including identification and treatment.