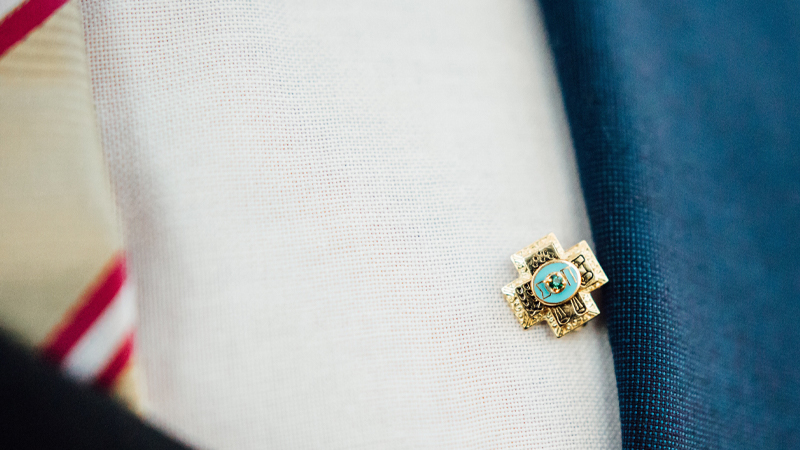 Province Archon of the Quarter
Kyle Koelbel (Arizona State '06) Colorado Province

We would like to recognize Colorado PA Kyle Koelbel for his outstanding work with the Colorado area chapters. Many of you may not be aware that one of the Zeta-Delta members was working at the grocery store in Boulder that was involved in the mass shooting. He was instrumental in working with the Executive Office to provide resources for these young men to help them deal with this tragedy. 
"I would like to recognize our PA Kyle Koelbel for his outstanding work for our chapter at CU the surrounding chapters. His amazing ability to show empathy to our guys after the Boulder shooting , at which at least one confirmed brother was there, sets a standard of excellence for the rest of us," Zeta-Delta Chapter Director Chance Staley (Kentucky '09).
He has also worked closely with the Sage and Chapter Director Chance Staley in trying to help the chapter obtain housing after losing their house this past spring. They continue to work diligently with area landlords to obtain a house for the chapter. He is also working with local alumni to host a Golf Outing later this summer in the Denver, CO area.
Kyle resides in Centennial with his family where he is CEO of Collegiate Regalia. Collegiate Regalia is a partner of Sigma Pi in supplying our chapters with their ritual equipment. Kyle is also a Delta Society Member and is a Delta-Master of Ritual.
---
Chapter Director of the Quarter
Jonathan Shepheard (Old Dominion '03) Theta-Eta Chapter

"In the years that Jon has been back, he has attended every chapter meeting, every alumni function, every formal event without fail. He has advised and guided the chapter through some of the best times and some of the most challenging and thanks to his dedication and leadership and commitment to the values of the fraternity the chapter has come out on top as a shining example of what a fraternity chapter and fraternity men should be all about. He exemplifies not only what it means to be a brother, and an alumnus, but he exemplifies the very best of what we look and strive for in a volunteer, specifically in that of a Chapter Director."
Dave Edwards (Christopher Newport'92)
Virginia Province Archon
---
Sage of the Quarter
Tier 1 – Kenshi Husted (UC Berkeley '19)

"Kenshi is a bright and passionate young brother who has stepped up in a big way this past quarter.  His guidance and leadership has helped the Iota Chapter remain one of the only fraternities on UC Berkeley's campus with zero Covid cases in 2021.  Kenshi has been level headed and calm and his steady leadership has set them up for success.  Kenshi has spent his time balancing being Iota's Sage, Maintaining a 3.6 GPA while studying Molecular & Environmental Biology with a focus in pre-med, and volunteering for the Suitcase Clinic which assists the homeless population in Berkeley and surrounding areas. Kenshi has demonstrated and lived the creed in an amazing way.  He has promoted scholarship, served his fellow man, and helped bring peace in such a tenuous time.  I believe he is deserving of recognition for all he has done to set the Iota chapter up for a successful and meaningful 2021."
Grant Hannon (Colorado State '18)
Iota Chapter Director

---
Tier II – Matthew Depeel (Eastern Kentucky '19) 

"Matthew has been instrumental in keeping Epsilon-Lambda Chapter brothers motivated in meeting their obligations to the Grand Chapter in the middle of the COVID pandemic.  To put it into perspective, around this time in 2020, the Chapter membership had an outstanding aging balance of over $19k owed by members with $15k of that considered "past due". The Chapter had overwhelming debt owed to the Executive Office of almost $19k.  Under the leadership of past Sage, Zane Fuqua, the Chapter began a payment plan in August 2020 and under Matthew's strong leadership, the Brothers of Epsilon-Lambda Chapter have continued to fulfill that payment plan with a goal to have it paid off by June 2020.  On top of that, current Accounts Receivable owed to the Chapter is under $2,500 for the first time in over two years!  Those who do not have a zero balance have defined payment plans in place with a goal to be at a zero balance by the end of the current academic year. It's taken much work and effort but Matthew has stayed on top of this and continues to stress the significance of Brothers meeting their financial obligations to both the Chapter and Grand Chapter.
For his leadership this semester and for continuing to push Epsilon-Lambda Chapter at Eastern Kentucky University forward, I humbly submit Brother Matthew Depeel's name for Chapter Sage of the Quarter."
Daniel Daugherty (Morehead State '88)
Epsilon-Lambda Chapter Director
---
Tier III – Jake McDonald (Grand Valley State '19)

"As we know, life for our chapters has been more challenging than in years past and leadership is super important. I reached out to Jake to see what he was most proud of with the Chapter during the first few months of his term and here were his notes:
Our new pledge class – even though it is smaller than we are used to (seven guys) i can confidently say they are all quality additions to the Chapter.
Standards – in my two years in the Chapter prior to this semester I had never heard of or known of any standards hearings being held. That led to a lot of younger guys not  respecting the Chapter, it's property, and our rules. This semester we picked a good standards chair and having that in place has set a new standard of respecting the Chapter and it's rules. 
Creative solutions for fundraising/philanthropy in COVID – our typical fundraising and philanthropy events weren't allowed because of covid so our chairmen did a nice job of coming up with new ideas and opportunities for raising money in Covid. 
Where this is not something that Jake has done/organized personally, it is happening under his leadership. The Alumni Relations chair, Kyle Juza, has been killing it with his newsletters & working to connect with alumni. He has organized an event that is bringing together actives and alumni focused on careers/professional development. Brother Juza polled the brothers for the roles that they want to obtain post-graduation and reached out to alumni to with a specific ask for brothers who have worked or currently work in those roles.  The event is happening this Sunday April 18th at 2:30. 15 to 20 alumni will be present representing everything from marketing, health care, financial services & logistics."
Quentin Groce (Grand Valley State '06)
Theta-Rho Chapter Director

---
Tier IV – Antonio Matusich (Santa Clara '20)

"Although he is a sophomore, elected Sage less than a year after his initiation, Antonio has demonstrated clear vision, imagination, and a crisp leadership badly needed in the middle of this pandemic year. As Sage, Antonio faced the financial crisis of the accounts owed to the Grand Chapter while also funding and planning both a slow reopening and a recruitment. Within just a few days, Antonio and the other officers planned an online recruitment and persuaded all but one other chapter to join us in virtual recruitment. Once the successful recruitment had been completed, Antonio's leadership brought the EC together in planning a safe pre-education period, so that the potential new members felt affiliated while remaining safe and removed from the usual activities of pledge education.
In short, within these few months, Antonio Matusich has become a significant leader in local Greek life."
Fr Art Liebscher SJ (Santa Clara '89)
Zeta Chapter Director