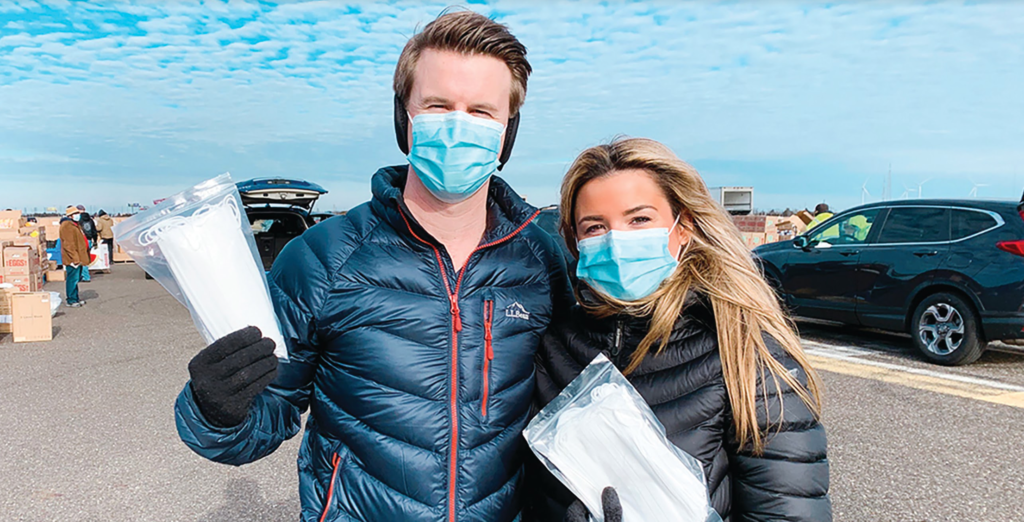 NJ Couple Donates More Than 100,000 Masks to Frontline Workers and Families in Need
To help do their part during the pandemic, New Jersey residents Barton Henderson (Montclair State '09) and his wife Kristina donated and helped distribute 20,000 masks to 2,200 families in need at a drive-thru food distribution at Bader Field in Atlantic City in partnership with Community FoodBank of New Jersey and the Casino Reinvestment Development Authority (CRDA). This donation is part of the Henderson's broader donation of 108,000+ masks from their factory in Santa Ana, California, to food banks and various nonprofits in New Jersey, New York, California, Pennsylvania, and Florida. The "Masking Up from Coast to Coast" campaign aims to assist in the fight against COVID-19.
"Masks are expensive, and for many Americans, they simply are not in the budget. People who are struggling right now, out of work and finding it difficult to put food on the table for their children, will keep wearing dirty, disposable masks because they can't afford to buy new ones. Our donation to families and frontline workers is one way we can help make a difference. We want to thank Feeding America and Feeding New York State Association for helping us locate areas with great need," said Barton Henderson, Esq., Chief Business Development Officer and Co-Owner of Henderson Promos, based in Red Bank, New Jersey.
"My husband and I just want to help. Our business pivoted to PPE production at the onset of the pandemic, and we see the demand for masks first-hand. It is our pleasure to provide frontline workers at food banks and other nonprofits, as well as families in need, with essential masks to help keep them safe during these unprecedented times. Nobody should be at greater risk of contracting or spreading the virus because they can't afford clean masks," said Kristina Henderson, Chief Executive Officer and Co-Owner of Henderson Promos, and the current Mrs. New Jersey American titleholder.
In case you missed it, the following article is from the Winter 2021 issue of The Emerald. To read the issue, visit here.