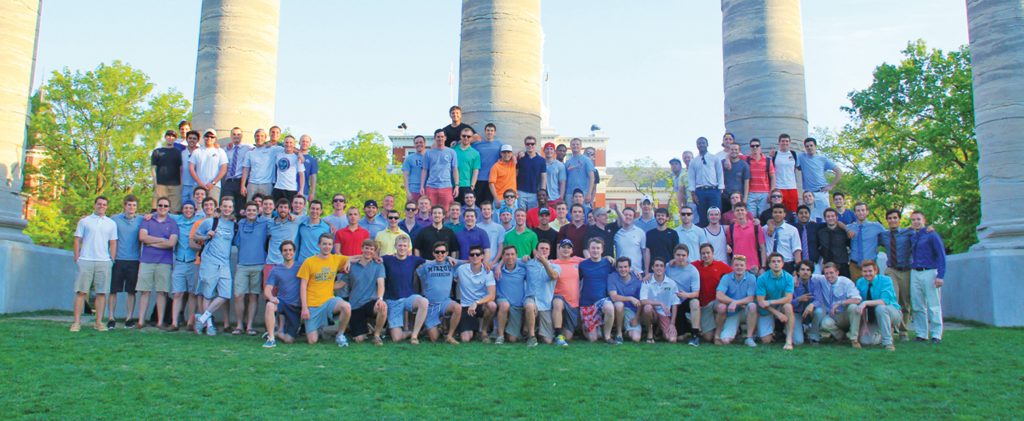 Editors Note:This article originally appeared on the Newsweek website on February 9, 2015.
In his February 4 piece, "The Fraternity No Longer Belongs on the American College Campus," Alexander Nazaryan recklessly capitalizes on overblown, negative stereotypes of fraternities to imply that Greek life is the catalyst for all the troubles facing campus life today.
The author couldn't be more off base. Unfortunately, his radical view of fraternity life adds to the litany of media coverage in recent months that seeks to tear down an institution that I believe is as important on college campuses as any extracurricular activity, including athletics, student government and even the hallowed student newspaper.
The author's piece is flawed for several reasons. But his most egregious error is his apparent insistence that—because a handful of fraternity members are accused of improper behavior—all fraternities and fraternity members are bad. Specifically, the author suggests that the very real challenge of sexual assault on campus must be laid at the feet of all fraternity men.
The reality is, fraternities are taking the lead on educating students about sexual assault prevention and awareness. Not only do fraternities provide training each year to their members around the country, the North-American Interfraternity Conference (NIC), which represents 74 fraternities, has formed a commission of educators, lawyers, researchers and other leaders to provide additional recommendations for addressing and eliminating sexual assault on campus.
I believe our effort, along with the effort of many others dedicated to campus life, is paying off. According to the U.S. Department of Justice Bureau of Justice Studies, rape and sexual assault on campus has actually declined significantly since 1997.
According to the study, an average of nine out of every 1,000 students in 1997 was a victim of rape or sexual assault. By 2013, that number had dropped to 4.3 per 1,000 students. Likewise, the study showed that women ages 18 to 24 not at college were actually 1.2 times more likely to be victims of rape or sexual assault.
Now, in my opinion, no number other than zero is good enough. This is why I formed the NIC Commission on Sexual Assault, which will meet throughout the spring and summer to tackle this very important issue. At the same time, I feel obliged to tell the true story of fraternity.
Each year hundreds of thousands of men find their home away from home through the fraternity experience. Fraternity members are good men who become better students, better campus leaders and better friends through the fraternity experience. Additionally, fraternities raise and donate tens of millions of dollars to charity and volunteer millions of hours in their communities every year. On average, fraternity men have higher grade point averages and graduate at higher rates than their non-fraternity peers.
Yet, no one seems to pay attention to any of this. So let me share a few examples. At the University of Alabama-Hunstville, members of Phi Kappa Psi have spent months building "tiny homes" as shelter for homeless in the area. The fraternity has partnered with other organizations to help power the homes with solar energy, and to provide support and training to those who live there in order to help them find jobs.
In Mississippi last month, members of Alpha Phi Alpha joined with the American Red Cross in Columbia, Mississippi, and committed to volunteering and raising money for disaster relief in an area that is often struck by tornadoes. And at the University of Utah, the men of Beta Theta Pi have been helping lead the conversation on the campus about sexual assault, and are partnered with the Rape Recovery Center on campus to hold forums on campus for students and specialists.
I am personally offended by the vitriolic attacks of fraternity detractors who prefer knee-jerk reactions to finding real solutions for the challenges facing today's college campuses. Rather than sniping at an easy target, I believe we would be better served if people spent their time more productively looking for answers to these daunting challenges.
For our part, that's what the NIC and its member fraternities intend to do.
Peter Smithhisler is president and CEO of the North-American Interfraternity Conference, a trade organization representing 74 national and international men's fraternities.