125th Founders' Day
Take Part in the 125th Celebration of Sigma Pi Fraternity!

Sigma Pi is proud to celebrate 125 years of our fraternal experience! 

This year, as part of the 125th celebration, all donations through the 55th/56th Convocation will be counted towards our goal of $100,000!

EDIT 1: You've already helped us hit our initial goal of $100,000! Now, we've set a new objective of $200,000 with all donations through the 55th/56th Convocation counting toward our goal!

EDIT 2: Wow! You've done it again! We've hit $208,819, meaning we need to set another goal! Now, help us hit $250,000 toward the 125th Campaign.

EDIT 3: Two additional stretch goals were surpassed, and we are pleased to announce over $476,000 was donated! 

Making a financial gift is a great opportunity to honor your Fraternity, but there are many different ways you can get involved as well! There are three key pillars outlined below that share means in which you can take part in this historic milestone within our Fraternity. 

Want to help us reach our goal? Donate now at give.sigmapi.org!

As a recognized 501(c)(3) non-profit organization under the United States Internal Revenue Code, gifts to the Educational Foundation are tax-deductible to the fullest extent permitted by law.
---
CELEBRATE
Events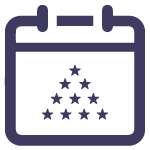 One option may be to host or attend an event. Whether at the chapter, alumni club, or national level, there are many events hosted throughout the year. Events are a great way to reconnect, re-engage and re-energize your passion for the Fraternity. With opportunities through the year ranging from golf outings, alumni gathers, tailgates, conferences, and much more, there's something for everyone. Contact your local chapter leaders or volunteers, or join an alumni club (sigmapi.org/alumni) or check out a list of events on our website (sigmapi.org/events). Want to submit an event? Just fill out this form.
Radiant Napa Valley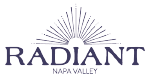 You can also consider joining the official Sigma Pi wine club, the 2 Twenty-Six Club, through Radiant Napa Valley (radiantnapa.com). Subscribers receive handcrafted, limited production wines made exclusively for Sigma Pi, and each shipment arrives in a fire-branded Sigma Pi wooden crate. When you enjoy a glass of wine from Radiant Napa Valley, you are supporting the Fraternity and the education of our brothers, all while enjoying excellent wine from America's most renowned wine country. We would love for you to consider joining the 2 Twenty-Six Club to celebrate our great Fraternity and give back to the organization that has such a special place in our hearts. 20% of all revenue comes back to Sigma Pi for educational efforts!
Shop Sigma Pi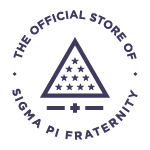 Another way to celebrate is to wear the apparel! Sigma Pi offers a great selection of branded merchandise, as well as the opportunity for bulk orders for chapters, colonies, alumni clubs, and Sigma Pi events. From shirts, hats, jackets, and flags to bundles, limited collections, and much more, you can find Shop Sigma Pi online at shop.sigmapi.org.
---
LEARN
History
Throughout the year, Sigma Pi will be sharing elements of our fraternal history that you may not know about! Revisit the Patterson Episode through a different lens, see how the collegiate experience has changed through The Emerald Archive, and much more content will be shared.   
Owl Talk Podcast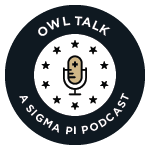 Additionally, you'll be able to check out the new Owl Talk Podcast, a micro-podcast. On this podcast for Sigma Pi Fraternity, we'll be taking you through the fraternal experience in many different ways. From episodes showcasing the history of the Fraternity, to interviews with notable alumni, you'll get a true sense of what "brotherhood" really means from the eyes of Sigma Pi members throughout our history. The Podcast will launch soon on all your favorite podcast platforms, including Apple Podcasts and Spotify.
Oral History Project – PCI Partnership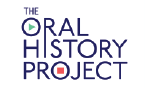 You can also help others learn about your Sigma Pi experience! We've partnered with PCI to launch the Sigma Pi Oral History Project to capture the stories of our members. These stories will be preserved in a book that celebrates the impact that Sigma Pi has had on your life and who you are today. More information can be found on this partnership at sigmapi.org/PCI.
---
ENGAGE
Donate Now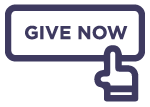 Take this Founders' Day as an opportunity to begin a tradition of giving back to the Fraternity through financial gifts. From scholarships and Chapter Educational Funds, to unrestricted gifts and programming opportunities, you can make your gift count toward the things you believe in most for Sigma Pi. To learn more, visit give.sigmapi.org.
FreeWill Partnership

Sigma Pi is also proud to partner with Freewill to launch a new platform where our donors can streamline bequests. It's easier than ever to make your impact through our FreeWill partnership, allowing you to write a legally valid will for free! Learn more at give.sigmapi.org.