10 Stars Toolkit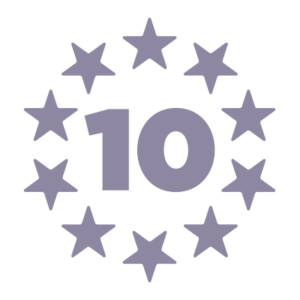 Welcome to the 10 Stars Campaign Toolkit. Become a fundraiser and get others to join! Each chapter and colony can be set up with a team, or get creative: fundraise as an alumni club, new member class, etc. You can also fundraise as an individual!
Thank you for all you will do to encourage Sigma Pi brothers and friends to support the Sigma Pi Educational Foundation, helping to provide life-changing opportunities for our brothers!
General Information
Checklist

Follow this checklist as a roadmap for the 10 Stars Campaign

Learn about the 10 Stars Campaign
Join the 10 Stars team by becoming a Fundraiser
Send the Kickoff email on October 1, 2022
Stay in touch with your contacts throughout the month of October
Send the Wrap-Up email on October 31, 2022
Celebrate your accomplishment!

Help Others Understand Where Their Money is Going

We've launched an online new member education program through the Bayard Membership Experience, an innovative new program that impacts the lives of brothers on and off campus, as well as university partners and communities at-large.
An online health and safety education tool called the Tightrope Program, an online suite of five courses that cover topics ranging from alcohol and drug use to the culture of alcohol.
The launch of the Bonds of Brotherhood, a mental health & safety program of Sigma Pi Fraternity, which has been created to inspire, educate, and engage members in Mental Health and Safety 
Chapters Presidents of Sigma Pi will be invited to Dallas, TX in Spring 2023 for the Tony Siress Leadership Summit where members will engage in a curriculum dedicated to developing personal and professional skills enhancing their knowledge and leadership within the fraternity and respective communities
Implementation of new technology and partnerships that give chapters the tools they need to recruit future Sigma Pi brothers.
Chapter executive officers experienced virtual Mid-Year Leadership Experience, allowing the Fraternity to expand attendance for ALL executive board members, as well as the new member educators for each chapter.
Continued communication and support from the Sigma Pi staff and volunteers, empowering undergraduate leaders to navigate the difficult situations they are currently facing on their campuses.
Expanded training and resources for our volunteers to help ensure they have the knowledge and tools to support their chapters.
SPEF published an Annual Report for the first time since 2015 and utilized ThankView multimedia messages to improve donor communications
Partnership with Freewill where members can add Sigma Pi to their will or trust

Becoming a Team Captain on Your Chapter Fundraising Page

Head to give.sigmapi.org/10stars and click on "Become a Fundraiser." Search for your university name, and follow the registration process. This will make you a team member, and then, the Sigma Pi staff will designate you as the Captain of the chapter's "Team," and you will receive an email notification.

Your chapter-specific fundraising page has its own link that you should use in ALL your communication! To find it, at give.sigmapi.org/10stars, under "Support a Team of Fundraiser," toggle to the Fundraising Team and search for your UNIVERSITY NAME.

Once you have access to your page, you can update your images, text and the fundraising goal. Click here if you need additional ideas or instructions as you make page updates.

Email communications@sigmapi.org with any questions.

Tip: We recommend making your own gift on your chapter's team fundraising page early in the campaign. This will help get the momentum started.

Becoming an Individual Fundraiser

If you do not wish to be directly associated with a chapter fundraising page, you can also fundraise as an individual! Just head to give.sigmapi.org/10stars and click on "Become a Fundraiser." Then, select "As An Individual" and follow the registration process. 

Get Your Chapter Involved

You should get your chapter brothers to be a part of the campaign with you: ask for support by communicating with chapter alumni via email, your personal social media channels, and the chapter's social media channels. Phone calls are also important! Utilize the "Tips for Running a Phone Bank" information further down this page to make it a success. 

You can use the communication templates and tools below to reach your brothers!
Email Communication
Email Template for Chapter Fundraisers - Kickoff

Subject: Sigma Pi – 10 Stars Campaign!

Brothers,

I'm reaching out to you to share some exciting news: we are kicking off the 2022-2023 academic year with a special event: the 10 Stars Campaign! This campaign launches today, October 1st and will culminate on October 31st!

Together with brothers and friends across North America and around the world, I ask you to join me in the 10 Stars Campaign and give today to secure the future of Sigma Pi and the place of its members as the leaders of tomorrow. Your gift will help [CHAPTER DESIGNATION] Chapter men learn leadership and life skills during the most important time of their lives. 

Will you join me in giving back to support Sigma Pi undergraduates? Go to [CHAPTER GIVING PAGE LINK] to make your gift now, and help us achieve our [CHAPTER] goal to raise $[GOAL] during the 10 Stars Campaign! We'll be competing with other Sigma Pi chapters across the country for the most donors and dollars raised!

So BROTHERS, please give today, then share our chapter giving page with 10 other brothers or friends of Sigma Pi! [CHAPTER GIVING PAGE LINK]

Thank you!

[NAME]

Email Template for Chapter Fundraisers - Wrap-up

Subject: The 10 Stars Campaign is Ending Soon!

Brothers, 

Can you believe the Sigma Pi 10 Stars Campaign is almost over? With [$ AMOUNT RAISED] already raised, we are [PROGRESS UPDATE ON YOUR CHAPTER GOAL].

I am so thankful for how you've stepped up to support our undergraduate brothers so far — but the giving isn't over yet! Help us exceed our goal by giving and sharing our 10 Stars Campaign chapter giving page with others: [CHAPTER GIVING PAGE LINK]

Thank you again!

[NAME]
Phone Bank
Tips for Running a Phone Bank

Ask a chapter officer or volunteer to coordinate the effort
Provide them with a list of alumni phone numbers from mySigmaPi
Calls should provide a positive chapter update (like how the chapter is persevering, even in this challenging year); and an ask to support Sigma Pi by making a gift through the10 Stars Campaign chapter giving page at [CHAPTER GIVING PAGE LINK]
Send a follow up text with the giving link and brief instructions

Call Script

Brother [NAME], this is [NAME] from [CHAPTER] of Sigma Pi. 

I hope you're well!

The brothers and I are reaching out to alumni to let you know how this year has been going. [INSERT POINTS OF PRIDE]

Additionally, Sigma Pi is hosting a special event called the 10 Stars Campaign, that helps support leadership opportunities for us and support for our Chapter. The Foundation provides scholarships and grants to programs that help make sure our Chapter gets the coaching and support we need. 

Would you be able to make a gift today online to help us celebrate the month of our founding? There is a Chapter Challenge among ALL Sigma Pi chapters across the country and we're trying to make sure [CHAPTER] lands on top! 

Go to give.sigmapi.org/10stars to give, and after you click "DONATE NOW" be sure to search for our chapter in the bar that appears, so we'll get credit! I'll send this in a text message to you, so it's easy, too. 

Thank you.

Followup Text Messages

Send a follow-up text after a phone call or leaving a voice mail:

Brother, help support Sigma Pi undergrads during the 10 Stars Campaign! Go to give.sigmapi.org/10stars to give, and after you click "DONATE NOW" be sure to search for our chapter in the bar so [CHAPTER] will get credit!