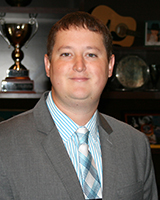 It is with great pleasure that we announce that Justin Steele is moving from his role as Director of Chapter Services to become the 5th Regional Director and Director of Conferences for Sigma Pi Fraternity, international Executive Office. As Regional Director, Justin will be responsible for growing and developing chapters that he works with, as well as the primary contact for their alumni associations, housing corporations, and host institutions. Regions will be realigned in the Fall to maximize the efficiency of our Regional Directors, and in the interim, Justin will assist with Province Workshops and our chapters that previously didn't have a visit scheduled for the Spring semester.
"Over the last eight years, Justin has done a great job in raising the standards of Sigma Pi chapters all over North America as Director of Chapter Services", said Michael Ayalon, Executive Director. "We appreciate Justin's dedication to Sigma Pi, and we feel that by going from four Regional Directors to five, we can reduce travel time, spend more time individually working with our chapters, and allow all of our Regional Directors to help us with other areas such as alumni engagement and identifying new expansion opportunities in their regions. Justin has done a wonderful job with our conferences, so he will have additional responsibilities as our Director of Conferences for Mid Year Leadership Conference, Sigma Pi University, and Convocation."
Sigma Pi Fraternity was founded in 1897 at Vincennes University, in Vincennes, Indiana. Our headquarters is located in Lebanon, Tennessee. The Fraternity is one of the top men's collegiate organizations in North America, with more than 120 active chapters and colonies in the United States and Canada. With nearly 100,000 alumni and 5,500 undergraduates; our men strive for excellence by living our core values to promote fellowship, develop character and leadership, advance heightened moral awareness, enable academic achievement, and inspire service. Sigma Pi is the only Greek letter organization with an international philanthropic program, The ACE Project, specifically designed to give back to our host institutions.