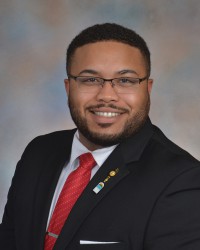 LEBANON, TN – The Executive Office of Sigma Pi Fraternity is proud to announce that Alexander Pettigrew (Indiana of Pennsylvania '15) has been hired as the Director of Education and Programs within the newly developed Education and Programs department. Pettigrew has served as a Chapter Management Associate since May 2018. He officially begins serving in the new position immediately.
In the role of Director of Education & Programs, Pettigrew will direct and implement educational programs and leadership initiatives of Sigma Pi. This new department will strengthen our undergraduate and volunteer education initiatives in health and safety areas across the board, in addition to other educational programs to develop the knowledge base of members.
During his time as a Chapter Management Associate, Pettigrew served as a Chapter Management Associate for Tier II. In this role, he successfully supported the needs of chapters, colonies, and alumni clubs.

"We are excited to have Alexander lead this new department," said Executive Director Jonathan M. Frost (UMSL '99). "He has already shown exceptional leadership and business knowledge during his time on our staff. He will lead a team and collaborate with our Curriculum Development Task Force to develop and monitor the educational aspects of Sigma Pi to enhance our services across North America."
Before joining the Executive Office, Pettigrew, originally from Stroudsburg, Pennsylvania, graduated from Indiana University of Pennsylvania this May with his bachelor of science in marketing. A brother of Theta-Epsilon since fall 2015, Pettigrew has served as the Fundraising and Recruitment Chairmen along with holding the positions of Treasurer and President from 2016-2017. Outside of Sigma Pi, he was a member of The National Society of Leadership and Success along with sitting on his campus' Interfraternity Council as Vice President of Programming in 2016.
"I am very excited to step into the role of Director of Education and Programs, in which I will help revitalize the education given to our undergraduates and alumni," said Pettigrew. "One of my main focuses will be to ensure that our men receive the necessary tools that enable them for success within their fraternal experience and in their own daily lives."
Pettigrew will continue to utilize his experience in education and project management to excel the Education & Programs department forward. His passion for the Fraternity will continue to shine through his work and attitude.
About Sigma Pi Fraternity
Sigma Pi Fraternity was founded in 1897 at Vincennes University, in Vincennes, Indiana. Our Executive Office is located in Lebanon, Tennessee. The Fraternity is one of the top men's collegiate organizations in North America, with more than 120 active chapters and colonies in the United States and Canada. With over 100,000 alumni and 5,000 undergraduates; our men strive for excellence by living our core values to promote fellowship, develop character and leadership, advance heightened moral awareness, enable academic achievement, and inspire service. Sigma Pi is the only Greek-letter organization with an international service program, The ACE Project, specifically designed to give back to our host institutions.