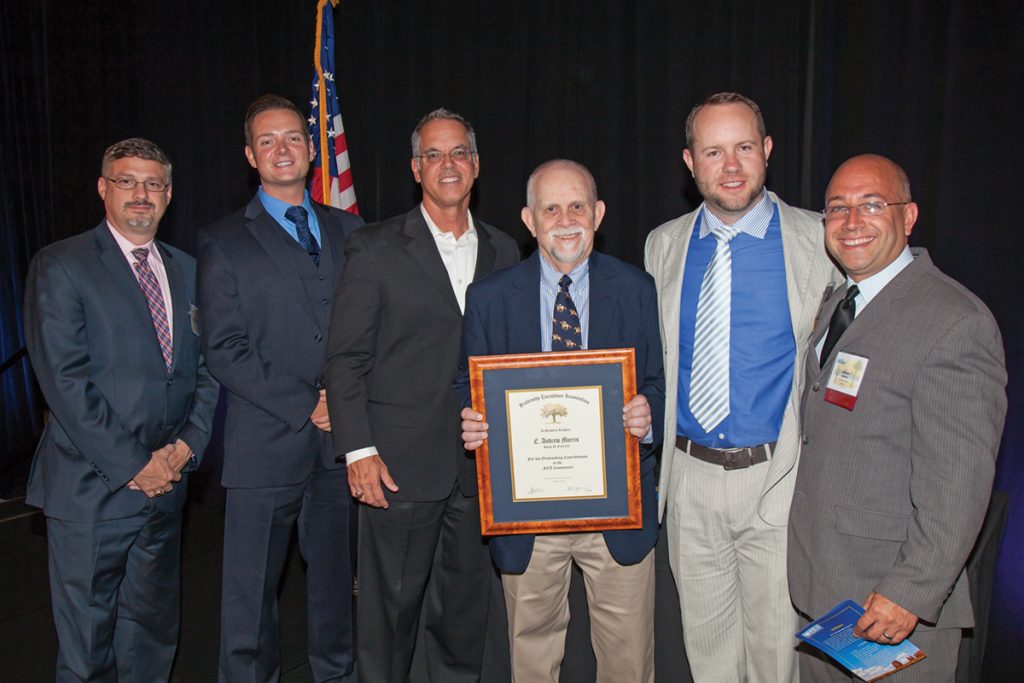 The Executive Office is proud to announce that GS E. Andrew Morris (Murray State '70) was recognized by the Fraternity Executives Association at the 2015 Annual Meeting in Scottsdale, Arizona for his contributions to the FEA community.  This award is presented to members who have positively impacted the FEA organization through their leadership and advancement of the mission of FEA.
"There have only ever been two [members of Sigma Pi] to receive awards from FEA. One was Harold Jacobsen (Kenyon '24) in 1987, who got the Award of Distinction," said GS Morris. "For me to be the only other Sigma Pi to receive that award is quite an honor for me, but also for the Fraternity.  If you look at the list of people who have received awards over the years, a lot of fraternities don't have anybody represented, and we've had two."
"Since graduation from Murray State University in 1970, Grand Sage Morris has volunteered his time to Sigma Pi in positions such as Chapter Director, Province Archon, and various Committee Chairman positions," said Executive Director Michael Ayalon (Buffalo '97). "From 1980 – 1991, he had significant interfraternal participation and leadership at FEA, and was even married at one FEA meeting during that time period with many former Executive Directors in attendance. In addition to his work with Collegiate Regalia to ensure the arrival of ritual equipment for so many of the FEA member organizations, he also speaks on Breast Cancer Awareness to Greek communities around the country. For his endless work as a mentor, advisor, leader, and motivator, this was a very fitting award for a lifetime dedicated to advancing the Greek movement. We're all very proud of his accomplishments."
Sigma Pi Fraternity was founded in 1897 at Vincennes University, in Vincennes, Ind. Our Executive Office is located in Lebanon, Tenn. The Fraternity is one of the top men's collegiate organizations in North America, with more than 120 active chapters and colonies in the United States and Canada. With over 101,000 alumni and 5,100 undergraduates, our men strive for excellence by living our core values to promote fellowship, develop character and leadership, advance heightened moral awareness, enable academic achievement, and inspire service. Sigma Pi is the only Greek-letter organization with an international service program, The ACE Project, specifically designed to give back to our host institutions.