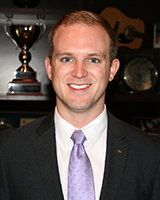 Sigma Pi Fraternity, International announces that Ryan Armstrong (Xi, Iowa '12) has been promoted to Director of Expansion at the Executive Office, effective May 1, 2014.
Armstrong joined the Executive Office staff in 2012 where he served our southern region as the Educational Leadership Consultant. Since July 2013, Armstrong has held the position of Senior Expansion Consultant where he led the expansion effort at the University of South Florida that colonized with 48 men. Currently, he is beginning our colonization efforts at the University of San Diego where he hopes to exceed that number with a strong colony.
As Director of Expansion, Armstrong will be broadly charged with strategically and sustainably growing the number of new Sigma Pi chapters and colonies, as well as working closely with Expansion Consultants to recruit, train, and ensure proper and successful colonization for the long term success of the new chapters.  Armstrong will also conduct primary and secondary research to determine which institutions are examples of exemplary North-American institutions that would be good targets for Sigma Pi, as well as maintaining a current list of institutional profiles.  Armstrong will be responsible for overseeing the progress of multiple expansion efforts each semester
"I'm extremely grateful for the opportunity to continue serving our fraternity, and I'm very honored to have been chosen to represent Sigma Pi as Director of Expansion," said Armstrong.  "Zach Spillner (Theta-Rho, Grand Valley State '10) has done an incredible job over the last two years, and I plan to continue his work by expanding to even larger and more prominent universities in the years to come."
"Ryan has done an exceptional job on the Executive Office staff, both as an ELC, as well as in his current role as Senior Expansion Consultant", said Michael Ayalon (Epsilon-Omicron, SUNY-Buffalo '97), Executive Director. "His leadership skills, interpersonal skills, and rapport with the undergraduates at our host institutions are all top-notch. Ryan has the proven ability to bring in quality men to Sigma Pi Fraternity; men that share our common values and ideals, and men that will lead this Fraternity on their Quest for Excellence. We couldn't be happier to have Ryan continue the legacy that he has started as our new Director of Expansion."
Sigma Pi Fraternity was founded in 1897 at Vincennes University, in Vincennes, Indiana. The Executive Office is located in Lebanon, Tennessee. The Fraternity is one of the top men's collegiate organizations in North America, with more than 120 active chapters and colonies in the United States and Canada. With nearly 100,000 alumni and 5,500 undergraduates, our men strive for excellence by living our core values to promote fellowship, develop character and leadership, advance heightened moral awareness, enable academic achievement, and inspire service. Sigma Pi is the only Greek-letter organization with an international philanthropic program, The ACE Project, specifically designed to give back to our host institutions.