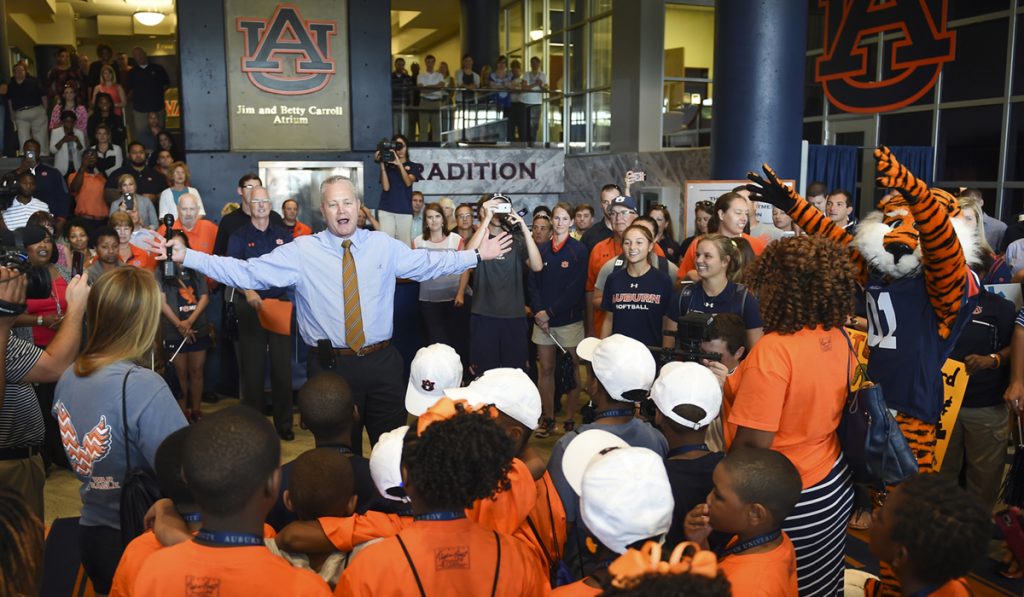 EDITOR'S NOTE: The selection below originally ran in a press release on the Auburn University website. To read the release in its entirety, please click here.
Sigma Pi alumnus Jay Jacobs (Auburn '85), who serves as the Athletic Director for Auburn University, has been named a 2016-2017 NACDA Under Armour Athletics Director of the Year.
The National Association of Collegiate Directors of Athletics award voted on by a select committee of athletic directors "highlights the efforts of athletics directors at all levels for their commitment and positive contributions to student-athletes, campuses and their surrounding communities," according to NACDA's news release.
Auburn President Jay Gogue nominated Jacobs, who was named athletics director in 2005 after working in nearly every area of the department for 20 years.
"This is a great day for Auburn and a tremendous honor for Jay Jacobs, his staff and all those who are responsible for this well-deserved recognition," Gogue said.
The Auburn president said Auburn Athletics has excelled in each of the areas he deems important for a balanced and successful athletic program.
"Under Jay's leadership, our student-athletes are excelling in the classroom and in competition," Gogue said. "Auburn Athletics is in a strong position financially. Our gameday experience was voted best in the SEC and Auburn has not had a major NCAA violation during Jay's tenure. I've always said a great athletics department excels in each of these areas, and we are doing that thanks to Jay and his staff."
Gogue also said he appreciates Jacobs' longtime service to Auburn, where he walked on the football team before beginning a career spanning three decades at Auburn Athletics.
"This well-deserved award is a tremendous credit to Jay and all he has meant to Auburn throughout his career. He leads the department with integrity, and I'm pleased how he represents Auburn so well, Gogue said."
Jacobs said he would accept the NACDA AD of the Year award at the organization's June meeting in Orlando on behalf of Auburn and the entire athletic department, which he credited for the recognition.
"I'm humbled by this honor, and I deeply appreciate NACDA and the distinguished selection committee for recognizing Auburn Athletics," Jacobs said. "This award is a credit to the entire university, the Auburn Athletics Department staff, our coaches and student-athletes. I share it with each of them."
Jacobs said the chance to play football and earn two degrees at Auburn made him who he is today.
"Auburn is a special place that means so much to my family and me," Jacobs said. "The greatest honor of all is serving my alma mater and having the chance each day to impact the lives of our incredible student-athletes. They make me proud to be an Auburn man."