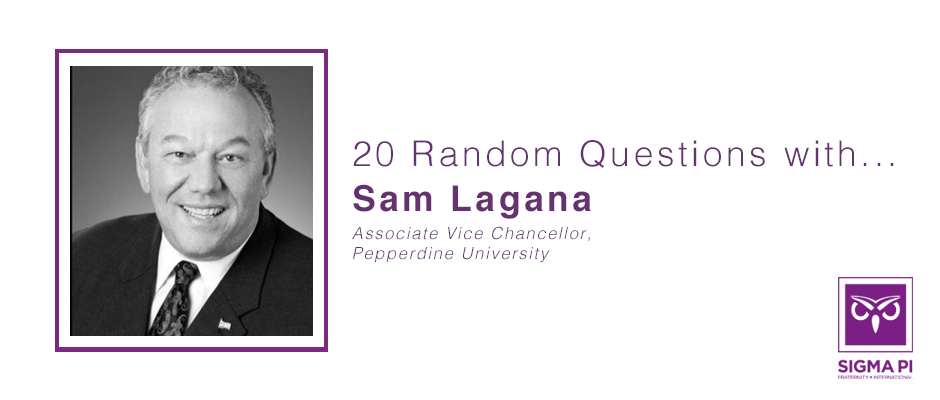 Editors Note: In our series "20 Random Questions with…", we take a fun and interesting look at some of our most prominent alumni.  From men who contribute financially to the success of the organization, to others who volunteer their time to help our members across North America, we take this opportunity to spotlight the leaders of Sigma Pi.  
Sam Lagana (Epsilon-Sigma, Loyola Marymount '85) serves as the Associate Vice Chancellor at Pepperdine University.  In this role, he represents Pepperdine across the nation, bringing new friends into the Pepperdine family. He is a key ingredient in the successful networking of Pepperdine University alumni on a global basis.
What is your favorite song in the last five years? "Chemistry" by Band Venice on the "What Summer Brings" album
What is your go-to karaoke song? "Mack the Knife" by Bobby Darin
Apple or Android? Apple
Deep dish or New York style pizza? Deep Dish at NY&C Pizza
Favorite sports team? Los Angeles Lakers
Favorite quote? "Failing to Prepare is Preparing to Fail" John Wooden.
Do you have a hidden talent?  Being a setter in beach volleyball
How do you feel about socks with sandals? NO! There is no feeling, just don't do it!!
Last book you read? "Fatal Conceit" by Robert K. Tanenbaum
Favorite television show? Hawaii Five-0
Favorite movie? Big Wednesday
Biggest pet peeve? People not stopping at STOP signs
Favorite city to visit and why? Domestically – it's NYC, for the energy of the city. Internationally – Florence , Italy, for the variety of the culture.
Favorite holiday and why? July 4th. Everyone is happy on Independence Day
Do you use Social Media? Twitter – @PepperdineSam
Who's your doppelgänger? George Kennedy
Can you do any good impressions? Vin Scully
If you could meet any famous person dead or alive, who would it be? George Washington
Favorite memory as a Sigma Pi volunteer or alumnus? Hanging out with fellow alums Sherdrick Bonner (Epsilon-Iota, CSU-Northridge '91) and PGS Larry Rovira (Epsilon-Nu, CSU-Fullerton '85) at an Arena Football League game.