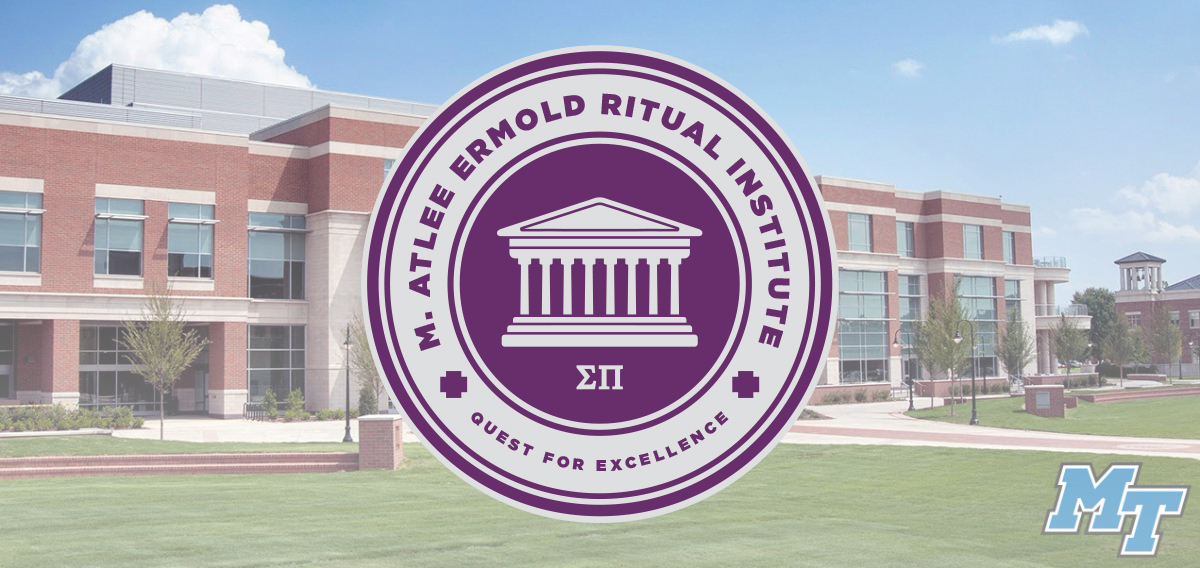 M. ATLEE ERMOLD RITUAL INSTITUTE


JULY 12, 2017
Thank you for your interest in the inaugural M. Atlee Ermold Ritual Institute. Here we will learn more about the thing that most separates us from every other fraternal organization – our Ritual.
Why do we wear our badge where we do? How do we properly perform the Ritual so that it has the maximum impact – not only on those experiencing it for the first time, but the more experienced Brothers as well? What does it mean to believe in an organization whose core values include developing character and how do we bring those values to our own daily lives? Where did our Ritual come from (and who is M. Atlee Ermold)? Have you seen all our ceremonies? What did our Ancient Sage teach us about leadership, and how does servant leadership encourage, support and enable our brothers and the profane around us?
In about ten hours, we will answer these questions, and more. Our agenda is based not only on large group instruction and discussion, but also includes small breakout sessions to deal with more specific topics, as well as having time scheduled during meals to get to know and network with other brothers in attendance.
Please see below for the tentative schedule and course information, as well as registration information.
CLARIFICATION ON DINING EXPERIENCE
The dining hall for the conference will be McCallie Dining Hall. McCallie Dining Hall is an all-you-care-to-eat dining hall located on the first floor of Corlew Hall (this building is situated right next to the BAS, where the conference will take place.)
SCHEDULE
Tuesday, July 11, 2017
| Time Start | Session Name | Room |
| --- | --- | --- |
| 6:00 PM | Arrival/Check-In |  TBA |
Wednesday, July 12, 2017
Time Start
Session Name
Room
7:30 AM
Breakfast
8:30 AM
Introduction/Overview
BAS-S102
9:00 AM
"I Wear It On My Heart"
BAS-S102
10:00 AM
Breakout Session: Setting the Stage
BAS-S118
Breakout Session: Personal Honor
BAS-S324
Breakout Session: To Develop Character
BAS-S330
11:30 AM
Lunch
1:00 PM
Breakout Session: Evolution of the Ritual
BAS-S118
Breakout Session: Lesser Known Ceremonies
BAS-S324
Breakout Session: The Second Degree: The Key to the Initiatic Experience
BAS-S330
2:30 PM
"Living Our Values, Valuing Others"
BAS-S102
3:30 PM
"Our Ancient Sage: Teaching Behind the Veil"
BAS-S102
4:30 PM
Closing Ceremony
BAS-S102
6:00 PM
Dinner
ACCOMMODATIONS
Registration for the Ritual Institute does not include lodging. However, if you are registering for BOTH the Ritual Institute and Sigma Pi University, the registration fee includes a stay in an MTSU residence hall for the entirety of both conferences.
Should you decide not to utilize the included residence hall space, you are welcome to book your own accommodations at a hotel listed below at your own expense. If you choose to do this, please inform Jen Wyatt at the Executive Office by email at jwyatt@sigmapi.org that you are not using the residence hall space.
Hotels that offer MTSU-associated discounts include:
Double Tree by Hilton
1850 Old Fort Parkway
Murfreesboro, TN 37130
615-895-5555 *ask for Sigma Pi conference rate
Holiday Inn Express (BOOKING LINK)
165 Chaffin Place
Murfreesboro, TN 37129
615-849-9000
Hampton Inn & Suites
325 N. Thompson Lane
Murfreesboro, TN 37130
615-796-2006
Fairfield Inn & Suites
175 Chaffin Place
Murfreesboro, TN 37129
615-849-1150
TRANSPORTATION
Participants will be able to drive or fly to the M. Atlee Ermold Ritual Institute. Those flying should plan to fly into Nashville International Airport (BNA). From the airport, travel to Middle Tennessee State University at 1301 E Main St, Murfreesboro, TN 37132. You may utilize Lyft, Uber, or a taxi service. Estimated costs for Uber and Lyft are approximately $40 one-way.
CANCELLATION
If you need to make changes or corrections, you will need to contact Jen Wyatt at the Executive Office (615) 921-2300.
Registration packages may be cancelled with a partial refund according to the following schedule:
Cancellation AFTER July 9, 2017: NO refund issued.
Failure to attend WITHOUT cancellation: No refund issued.
Collegiate Regalia – Ritual Scholarships

Collegiate Regalia is collaborating with the Sigma Pi Educational Foundation to award five $50 scholarships at the first ever M. Atlee Ermold Ritual Institute! The Collegiate Regalia scholarships are open to all Sigma Pi members who are attending the Ritual Institute, and are in good standing with both their local chapter and the Grand Chapter. The winners of these scholarships will be determined based on criteria pertaining to attendance at the Ritual Institute.
APPLICATIONS ARE NOW CLOSED