Eric Babbitt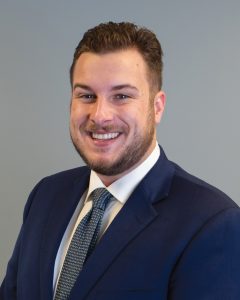 Eric Babbitt
Assistant Strategic Growth Director – Colony Success
Eric Babbitt (Northern Arizona '17) serves as the Assistant Strategic Growth Director – Colony Success. In this role, Babbitt develops and grows existing and future colonies of the fraternity, along with implementing the educational programs and training for Colony and Interest Group members of Sigma Pi.
Prior to his role as the Assistant Strategic Growth Director – Colony Success, Babbitt served the Executive Office for one year as the Chapter Management Associate for Tier I chapters. Babbitt successfully supported the needs of chapters, colonies, and alumni clubs.
As a freshman in 2015, Babbitt requested that Sigma Pi recolonize at his campus. By spring 2016, Beta-Iota Colony returned. Babbitt served as Colony/Chapter Vice President for two years, and was instrumental in the chartering of the Chapter, in only 356 days. His dedication to the rechartering efforts earned him the Inaugural Leadership Scholarship presented by the Beta-Iota Alumni Association. The success of he and his brothers' efforts to become a high-quality organization inspired $30,000 in donations from local alumni. Additionally, Babbitt was a member of Northern Arizona's Interfraternity Council for three years and ended his undergraduate career as the Chapter's Public Relations Chairman. His service to Sigma Pi extends further than his own local undergrad experience; he attended all three Sigma Pi conferences, has been a contributing author for The Emerald, and currently is a member of the 2018 Convocation Elections Board. Babbitt graduated from Northern Arizona, with a bachelor of science in public relations, and a minor in business marketing and administration.