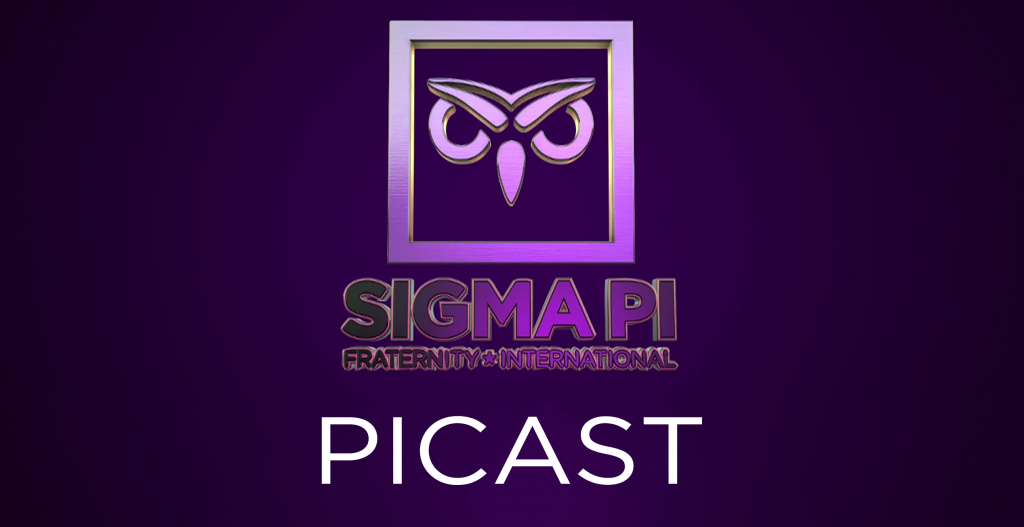 Welcome to the next edition of the PiCast. My name is Michael Ayalon, and I'm the Executive Director of Sigma Pi Fraternity.

I wanted to give everyone an update following our largest gathering of Sigma Pi members in the history of the Fraternity at our most recent Mid Year Leadership Conference in St. Louis, but before I do that, I wanted to wish all of you a Happy Founder's Day. As we approach February 26th, Sigma Pi will be celebrating 118 years of brotherhood. That's a fantastic milestone, and we have so much to celebrate. In honor of Founders Day, I would ask that you all join our online Facebook event at www.SigmaPi.org/118 to show your support and wear your badge on February 26th. Don't forget to take some photos of you wearing your badge that day and share them with us on social media.

On Founder's Day, we will be launching the new Sigma Pi Store. You'll be able to view all kinds of Sigma Pi apparel, accessories, chapter items, gifts, and promotional items for sale that are all officially licensed products by Sigma Pi. They will only be available online, so go check it out at www.SigmaPiStore.com.

The Emerald Online has been very well received by our membership. You can go check that out at www.EmeraldOnline.org, and it will have new stories updated weekly that cover all kinds of topics that relate to both the undergraduate and alumni members. We'll still produce a Summer and Fall issue of the printed Emerald for all of our members that still appreciate a printed magazine, but now you'll have the ability to get our news information 24 x 7, 365 days a year.  Thank you to Chris Carter and Phil Aiello for their work in developing the site and keeping it updated with great content.

Now let's get back to some exciting developments at our recent Mid Year Leadership Conference. It was the largest gathering of Sigma Pi members ever in our history, and I wanted to say thank you to Justin Steele, Kevin Pons, and Jason Walker for all their work in organizing the event. Our members and alumni felt it was the best conference yet. At our conference, the Mackey Award was presented to an outstanding Sigma Pi Sportsman, and that went to Delta-Omega alumnus John Carenza. John was on the 1972 US Olympic Soccer Team, and he had a wonderful speech that really outlined what it means to be a Sigma Pi for life.

We also handed out the Bridge Award for alumni members with 50 years of dedicated service to Sigma Pi. The Bridge Award went to Eli Sidwell, Don Cox, Jim Verplank, Jim Keene, and Frank Woodbury. We appreciate all of their service to the Fraternity. Frank Woodbury had some touching remarks about how much it meant to receive this award, and I know I was really moved by his words.

Our Expansion Department continues to show great results. As of February 1, our colony at Epsilon-Beta (Kentucky) is at 52 men, Epsilon-Chi (San Diego) is at 43 men, Eta-Sigma (Colorado State) is at 21 men, South Florida is at 47 men, St. John's is at 33 men, we're seeing big numbers in chapter growth projects at Nu (Franklin & Marshall) as well as Theta-Mu (Chico), and we've just started with large numbers at Beta-Kappa (Arizona State). We already have 69 members who have accepted their bids to join Sigma Pi. So, there will be some very exciting charterings to come! As you can see, we are targeting dormant chapters of Sigma Pi, so we have a ton of work ahead of us. I feel great about reopening these groups, and I know how important that is for our alumni that have been patiently waiting. While we only have limited resources, we'll do the best we can to get to as many dormant groups as possible.

We're continuing to see the unprecedented growth that we've seen over the last 2 years. From July to December of 2014, we had 1,712 pledges, which is a 7.7% increase over least year. We've had 1035 initiates, which is a 35.9% increase over last year. We're continuing to clean up old initiates that had built up over the years and get everyone's forms and fees in for proper registration. Our new partnership with OmegaFi has been instrumental in cleaning up those old records, and we thank them for their hard work, as well as the Regional Directors who have made this a priority on their chapter visits.

Some of the new initiatives that I spoke about at Convocation have already started to bear fruit. One of them was Sigma Pi Properties. Since inception at Convocation in 2014, already the Sigma Pi Properties team has assisted the Rutgers chapter in negotiating a lease on their new chapter house, assisted Ole Miss in negotiating a new lease on a much larger, premier fraternity house on that campus that they will move into this Summer, we've located new housing at Michigan, land at Kansas and Kansas State, and put together a property management deal for our chapter at Oshkosh. The team is now working on their printed National Housing Plan for Sigma Pi, and that will be rolled out for all chapters to see by the end of 2015. You will also see a Sigma Pi 2020 plan that will be distributed to all members over the next 30 days, and that will chart all of our operational goals over the next 5 years.    

Another new initiative that I spoke about at Convocation was our new Lifetime Membership Education Program. We will be piloting this program with 25% of our chapters in the Fall of 2015. If your chapter is selected, you will be receiving information over the Summer on the rollout. The expectation would be for all chapters to be using the new Lifetime Membership Education Program by Fall 2016. What's unique about the program is the various levels that Sigma Pi members can go through, including Level one (knowing the material), level two (understanding and reflecting on the material), level three (doing or taking action), and level four (teaching and mentoring). The program will be all encompassing, covering our history, risk reduction, hazing prevention, alcohol abuse prevention, and sexual assault prevention, scholarship, dress & etiquette, values, diversity, leadership, mental health, service, and finally our Ritual. This program will evolve from Freshman year through Senior year as your needs change, and will continue to educate as an alumnus as well. I couldn't be more excited about the program, and I wanted to say thank you to Kevin Pons for his work in building it.

We have so much to be thankful for this Founder's Day. I truly feel that our Founding Fathers would be proud of the progress that we've made with Sigma Pi. You are experiencing lifelong friendships, our chapters are growing, you're leading on your campuses, and you're prepared for a successful transition into the workforce.  I couldn't be more proud of the work you've done. I know this Spring will be another successful chapter for all of you. If there is ever anything I can do to further support you, please call me at the Executive Office at 615-921-2300, or send me an email at: mayalon@sigmapi.org.

I'm humbled by all of your support and your progress. Thank you.