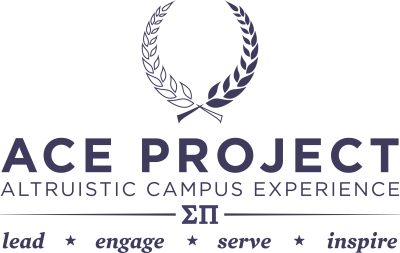 The Altruistic Campus Experience, or ACE Project, began as nothing more than an idea of Sigma Pi Fraternity Executive Director Mark Briscoe in fall of 2002 when he re-evaluated the role of the Greek system on our college campuses. Briscoe saw a need that was not being met by any campus organization, and with the help of the staff helped to implement the first international service program specifically to benefit our host institutions.
The ACE Project was presented as a concept to the undergraduate chapter leaders at the 2003 Mid-Year Leadership Conference in St. Louis and was approved by our membership with great excitement. Between the February meeting and the following summer, the Sigma Pi Executive Office staff labored diligently to complete all of the logistics and set up parameters for the program to ensure its success.
It was officially kicked off during the Fraternity's summer leadership school, Sigma Pi University (2003), with a bold announcement that Sigma Pi would lead the way in service for our campuses. ACE started with a bang as the excited members at SPU began brainstorming ideas before they left the event. T-shirts and materials were distributed to everyone in attendance, and advisors were announced for undergraduates to solicit for ideas.
The Altruistic Campus Experience is unlike any other program designed by our organization and is already a proven success in North America. Since each campus and chapter is different (some public, some private; some large, some small); the project is implemented and evaluated to help the specifically approved needs of each campus.
Each project is different, and specially designed for the modern needs of our campus. As undergraduate members of Sigma Pi Fraternity develop, they will want to take an active leadership role in the ACE Project. The project is perfect in its ideal, as it is a way of helping to strengthen the bonds of the students with the academic arena which trains them to be the best as professionals.
ACE is one of the best ways for any college student to enjoy the benefits of pride, honor, and devotion to their alma mater as an undergraduate. As a student lives, studies, and works daily on their campus; they can work with the administration (through the ACE project) to find a way to make it better. The campus is preparing each student for a career and life, and Sigma Pi Fraternity men give back to them with volunteer labor for the needs we can fill to enhance the collegiate experience. After all, helping our school is a great way for our students to help themselves learn the value of donation to their alma mater.
Sigma Pi Fraternity strives to create great alumni, and cultivate a new generation of leaders among all men on our campuses. For more than a century our organization has been a valued member of the campus community, and we are excited to deepen our devotion to our campuses in the best ways possible to provide our society with well educated, moral and dedicated men. The ACE Project has impacted thousands of people in hundreds of ways already, and we are excited to continue to improve this project and our campuses for generations to come.